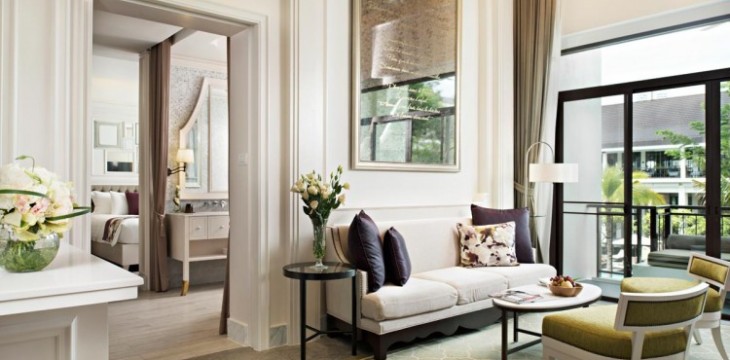 Asia, in particular China and Southeast Asia, is becoming the centre of the world's attention for many reasons. Our food and spices, music trends, and fashion styles and designs have really made their mark as global trendsetters. In terms of creating luxury designs especially in hotels, Asia has its own uniqueness drawn from its great cultural references and diversity. With Asian luxury designs there are deep rooted philosophies and stories behind each colour and every layout – all aimed at achieving the ultimate customer experience.
We recently travelled from Shanghai to Chengdu and Bangkok to see some recently opened luxury hotels that have already made a big impression with their robust and original design.
C H I N A , S H A N G H A I
Four Seasons Hotel Pudong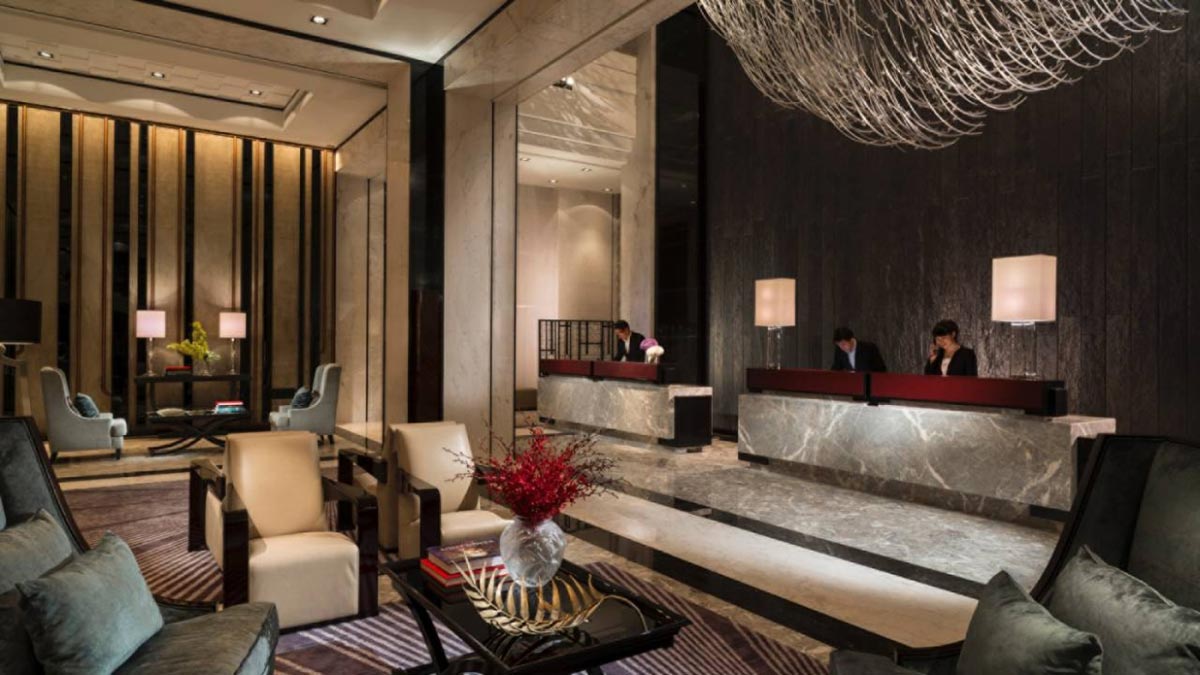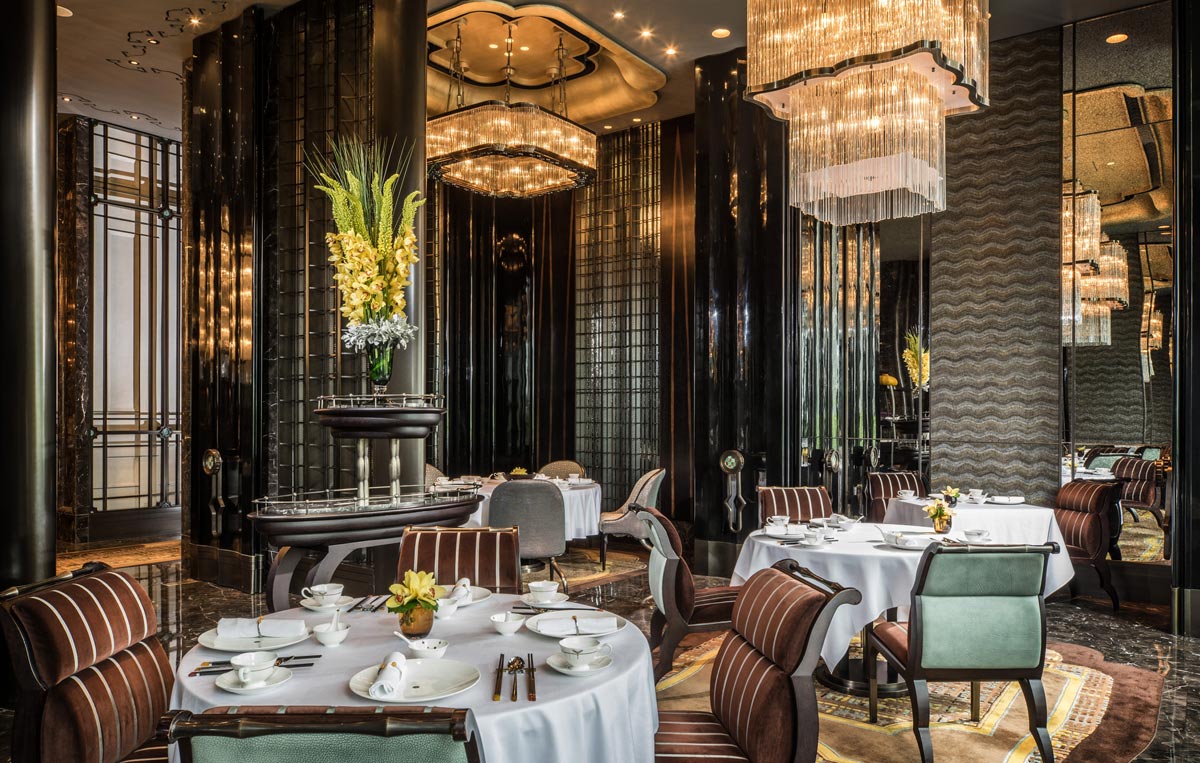 Shanghai is a stylish city with great artistry and a vibrant lifestyle. On our recent visit, we wanted to explore the district of Pudong and check out the Four Seasons Hotel Pudong or the 'Jewel Box' as the locals like to call it. The word 'glamorous' immediately came to mind as the hotel really showcased modern luxury design at its finest. Opened in September 2012, Four Seasons Hotel Pudong is nestled inside the newly built 55 story 21st Century Tower. It is an urban luxury hotel that is filled with great artworks with an interior inspired by Shanghai's Golden Age of the 1920's and 30's Art Deco period.
Designed by global design giant Wilson Associates, Four Seasons Hotel Pudong is decorated with a rich colour palette including Shanghai's rouge, glossy black and textured grey hues, with smoky glass and metallic accents giving a traditional, yet luxurious Shanghainese ambiance. The dramatic lobby space for example is adorned with a grand spiral staircase designed to be very sculptural in form. Clad in high gloss with an underbelly of vibrant Makassar ebony, this grand staircase unites the upper and lower floors. As a juxtaposition to the stairs, lies an epic sculpture made out of 1,000 intricate leaf-shaped metal strips that floats above the reception area. It was made by the talented Japanese Studio Sawada Design and was specially commissioned by the hotel.
With 1920's Art Deco design as its main inspiration, Wilson Associates created a sense of luxury through clean lines, colours, and textures in all of the 187 guestrooms and 15 suites. Each room, with its six metre wide window bay, has blackout curtains electronically controlled within the architectural mullions. An oversized hand-stitched red leather workdesk provides an accent here which is softened by plush, greytoned carpeting with a coloured pattern that gradiates from light to dark. The all-marble bathrooms are elegantly designed and add to the overall glamour.
C H I N A , C H E N G D U
The Temple House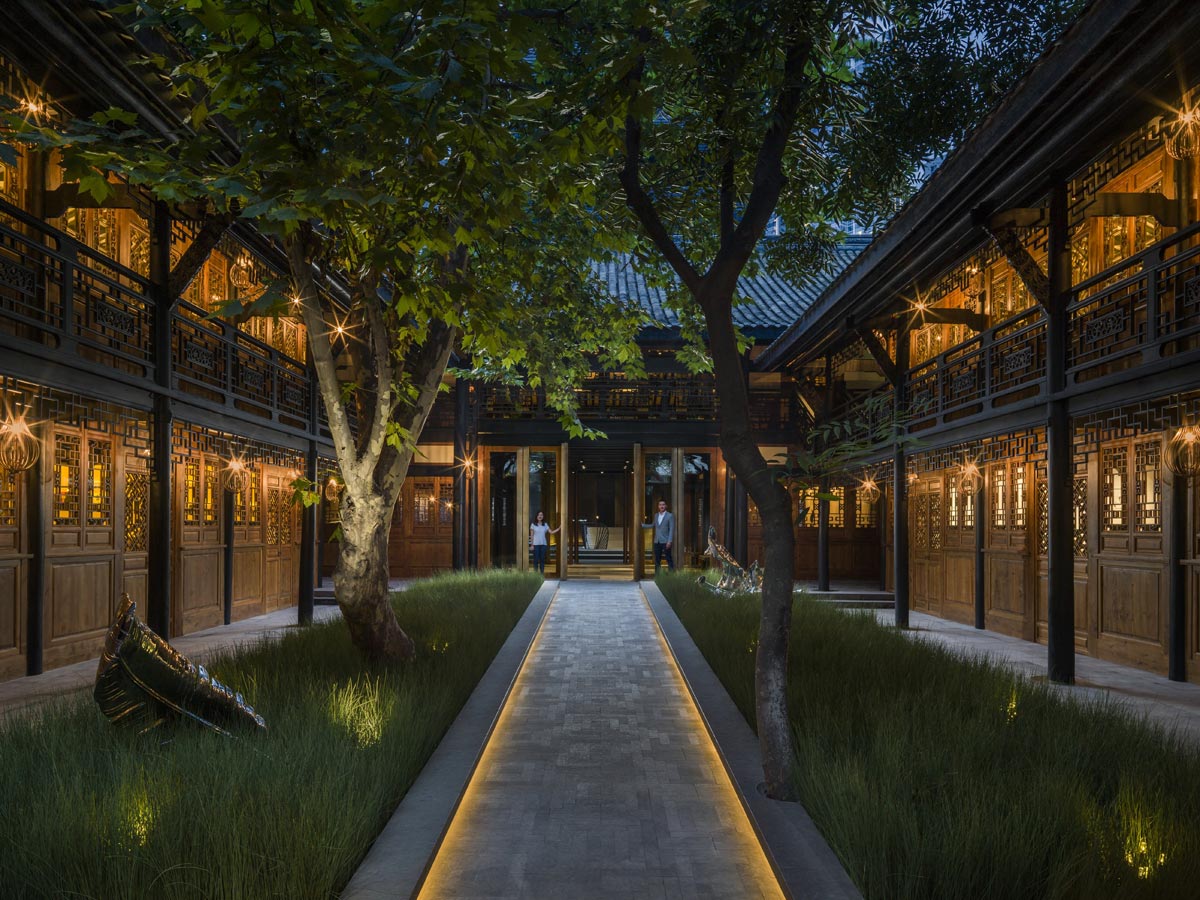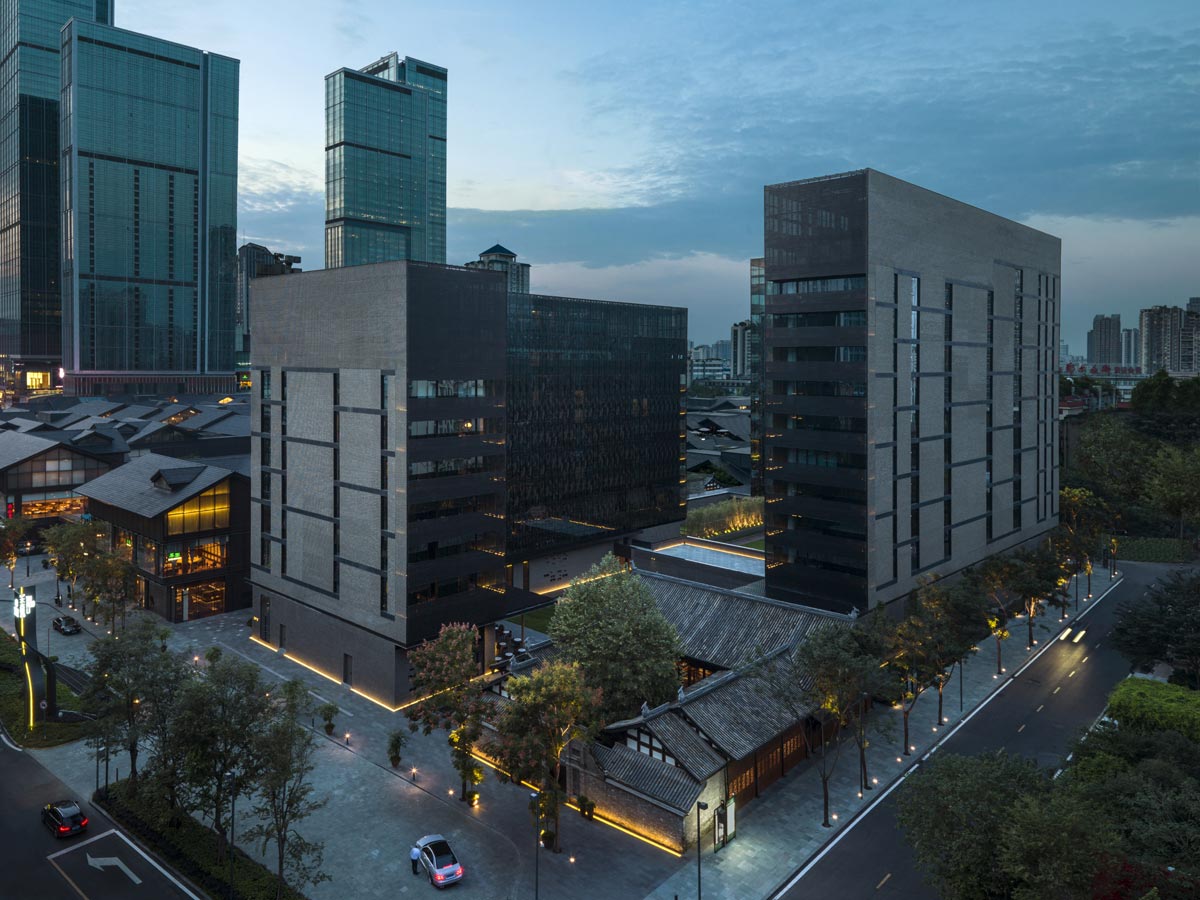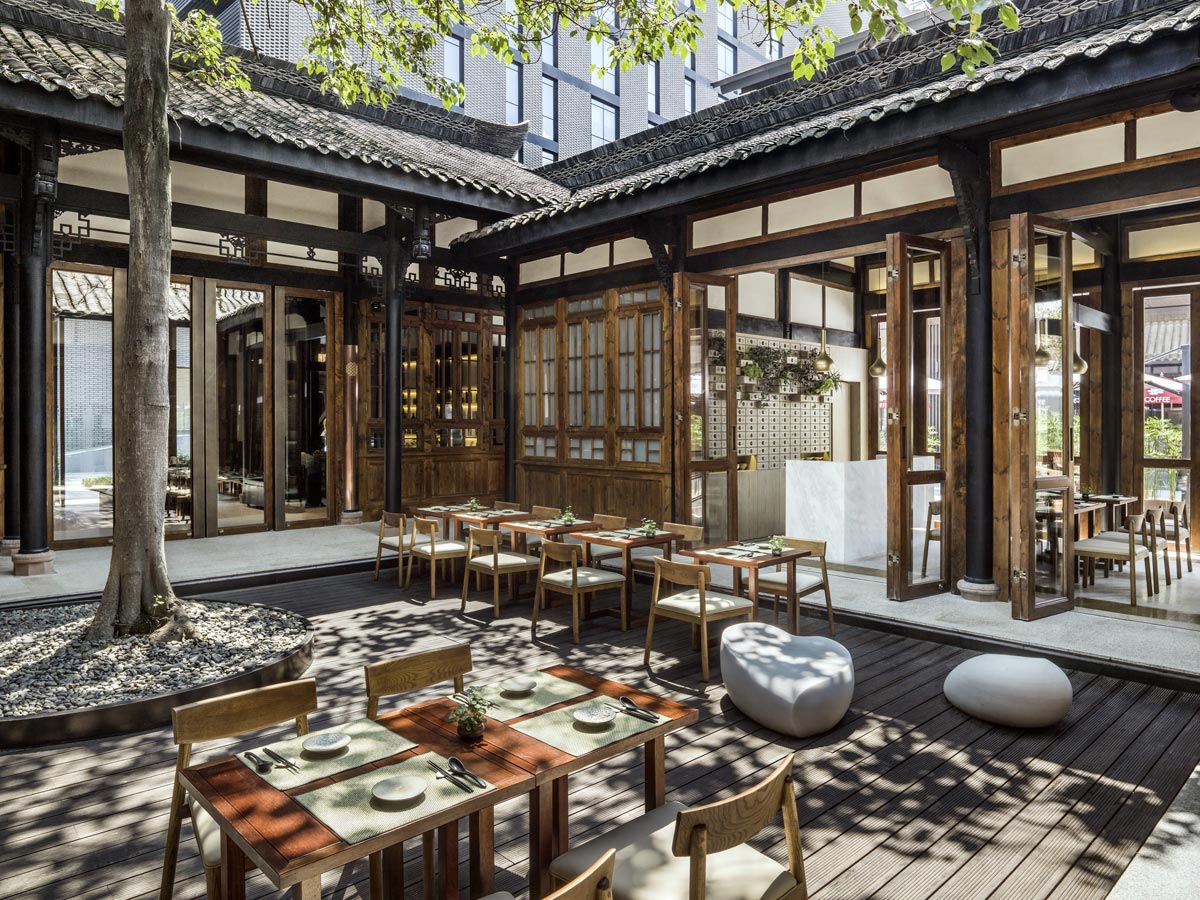 Chengdu is a one of the most important industrial cities in China. In contrast with other cities in China, the Chengdu landscape is more functional than aesthetic. Nevertheless, the city has its own charms like the uber cute panda, the best silk and spicy Sichuan cuisine as well as some of the best architectural heritage such as JinLi Street where traditional Chinese houses from the last century have been preserved as beautiful restaurants and shops. One of the best examples here is The Temple House.
As an integral component of the Chengdu Daci Temple Cultural and Commercial Complex, this beautifully restored Qing Dynasty heritage building was once the place where scholars from around the world would stay while studying at the Daci Temple. The 'hotel' continues this tradition with the same sense of modesty which has been carefully enhanced with understated touches of luxury to make this one of the finest places to stay in China.
The Temple House story is not only about preserving the original building. Two new buildings were added with 100 modern guest rooms and 42 adjoining serviced apartments known as The Temple House Residences. Opened in July 2015, these extensions were designed by the internationally renowned architectural firm Make Architects from the United Kingdom. The threedimensional woven façade combines modern design with traditional Chengdu architectural elements of timber, brick and step stones. Elegant bamboo trees frame the hotel's entrance, which is set in a beautifully restored hundred-year-old Chinese courtyard building in the style of the Qing Dynasty era.
The hotel follows the typical Siheyuan or traditional courtyard house design with a sequence of courtyard gardens bordered by the two L-shaped medium rise buildings that contain the hotel rooms and the serviced apartments. Going into the rooms, the design is subdued with a dark timber façade contrasting with the lighter, neutral interiors. The monochromatic palette of whites and light oak lends not only a feeling of serenity but also the sense of a stylish urban retreat. Timber finishes and subtle textures add warmth to the scheme while custom-made furniture and traditional Chinese screens enhance the overall tailor-made design.
Design highlights in this hotel include the hotel's artwork collection, a unique Teahouse harking back to the traditional style of days gone by, as well as their stunningly designed eateries : The Temple Cafe (all day dining), Tivano (Italian dining) and Jing (bar and lounge). Being the fifth property in the portfolio of Swire Hotels that includes The Upper House and The Opposite House, The Temple House is without doubt a unique luxurious property with great stories to share.
T H A I L A N D, B A N G K O K
U Sathorn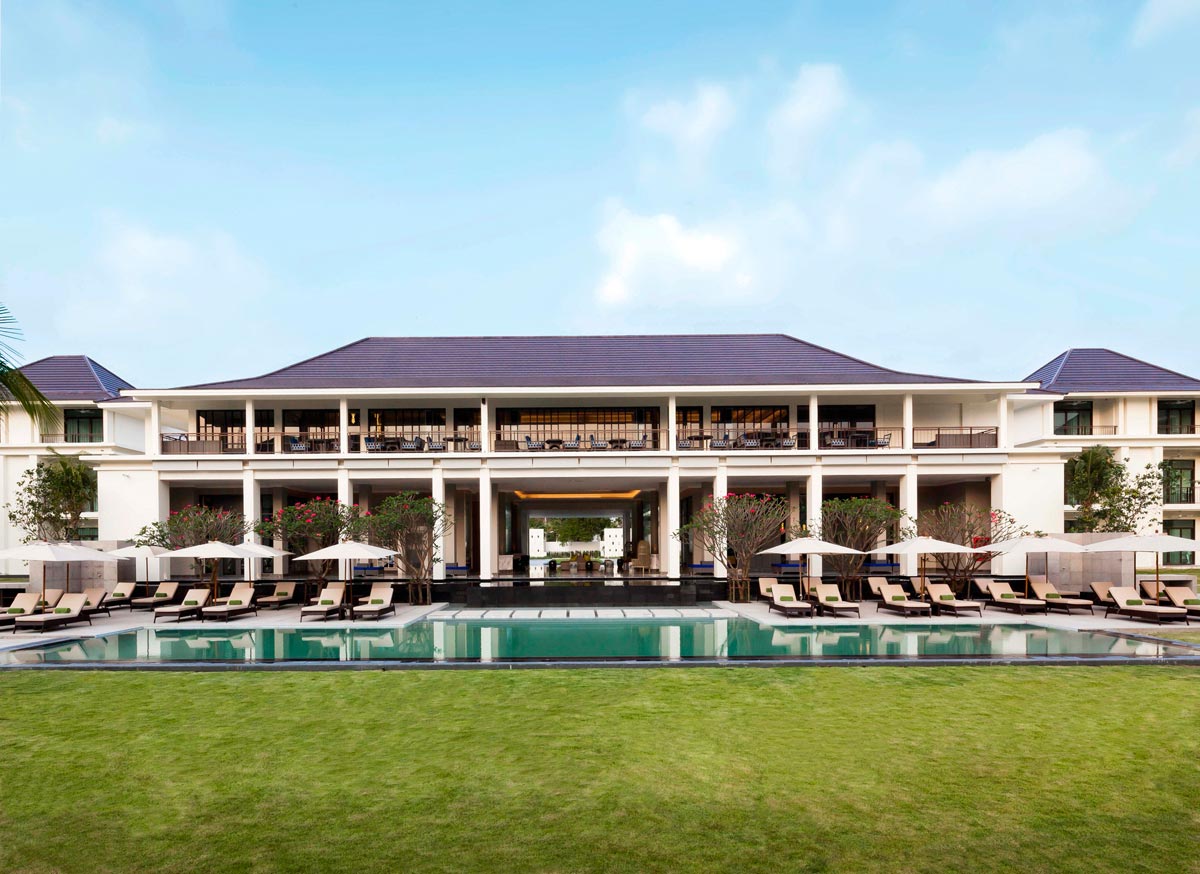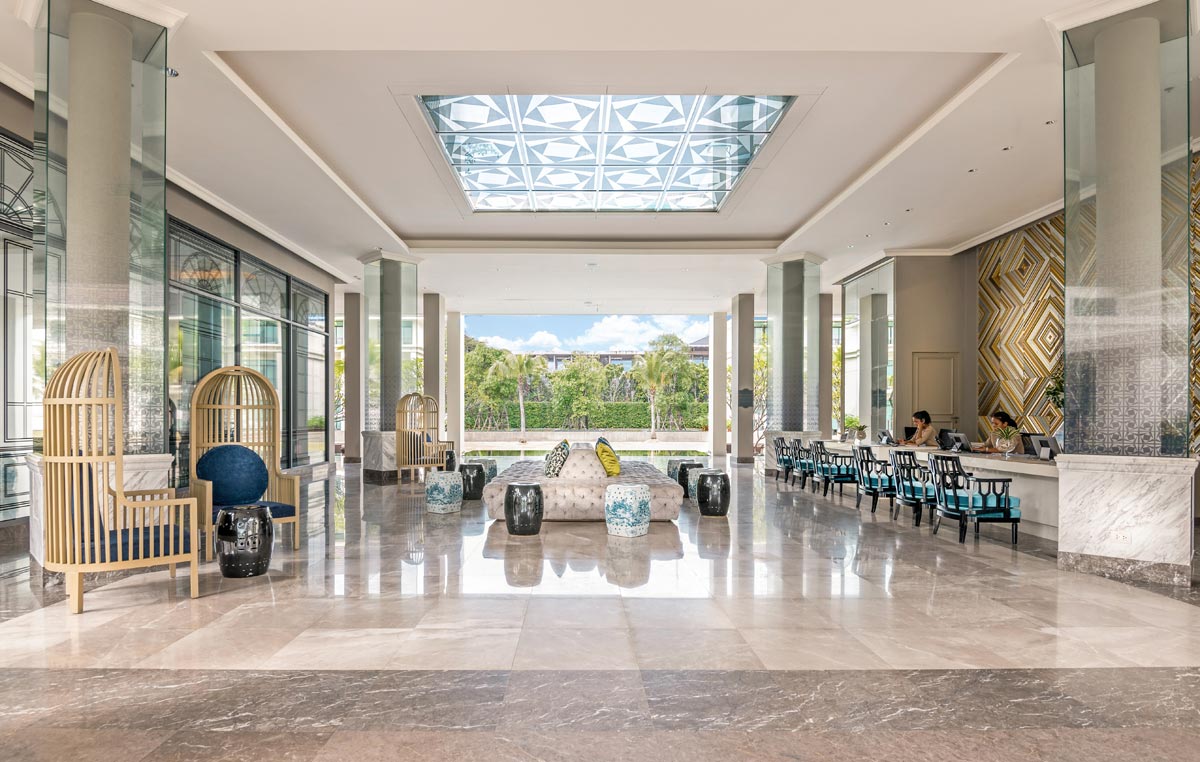 As one of the favourite metropolitan cities in the world, Bangkok is a popular international destination with a unique character and a rich cultural heritage. It is a progressive city that is constantly coming up with new design approaches that are not only refreshing but also 'out of the box'. U Sathorn, located in the downtown city of Bangkok, is a great example of the country's fast growing design reputation.
Opened in December 2014, U Sathorn with 86 rooms and suites is nestled in three low rise wings arranged in a courtyard style surrounded by lush green areas with a gorgeous swimming pool as the focal centre piece. Designed in the French Colonial style (pictured up top), this urban boutique resort feels like a contemporary version of Geoffrey Bawa's classic architecture. Regarded as one of the most influential Asian architects of the 20th century, this Sri Lankan architect has a design approach that breaks down the barriers between the inside and outside, between interior design and landscape architecture, which reduces the buildings to a series of elegantly conceived spaces separated by natural features.
Sopit Sucharitkul from Create Great Design took the Geoffrey Bawa inspiration and contemporized it into Cosmos French style. The result is an upscale urban resort, predominantly in white, with decorative lights and interiors that resonates chic Parisian style. The 72 sqm suite, for example, is spacious and echoes the sophistication already seen in the lobby area. Beige parquet floors with a modern chandelier hanging from the high ceiling in the living room juxtaposing a mini kitchen/ bar is the first area you see as you come into the suite.
The open bathroom is situated in the middle of the suite, comprising a stunning bathtub and a separate shower area, before leading on to a large bedroom and a balcony. The predominance of white is calmed with hues of soft grey and accentuated with vibrant traditional Thai silks.
One of the real design highlights in this hotel is the French fine dining room, J'aime. Lead by three-star Michelin chef, Jean-Michel Lorain, J'aime is a unique conceptualized restaurant where the design is upside down − like looking into a mirror reflection. From the transparent grand piano that hangs on a stage to the upside down window frame and bottle display, J'aime is surely a one of a kind design gem.
As a hotel, U Sathorn really showcases a great east-meets-west design and gives the guest an 'out of the box' experience. Then again, why not? It is always great to be different and distinctive.
credit : http://www.indonesiadesign.com/architecture-interior/designing-luxury-hotels-in-asia/